Whisper-soft pale pinks. Hushed pastel blues. Calming, muted yellows. Pastel and pale paint colors cast a flattering light on people and places alike.
Clean, simple, and surprisingly nuanced, pale and pastel paint colors harmonize effortlessly with a range of colors. Delightfully sophisticated, especially when paired with neutral tones, the soft hints of color offered by these hues enliven any room.
Pale and Pastel Paint Color Palette
Cast a refreshing, positive vibe and add extra light into any space with these pale and pastel paint colors.












Pale and Pastel Orange Paint Colors
Pale and pastel oranges are light-hearted and playful. Here, summery Peach Parfait 2175-70 delivers warmth, vibrancy and an element of surprise. Consider pale, flattering hues like Sunlit Coral 2170-60, August Morning 2156-40, and Crestwood Tan 116 for a more mellow approach.
The direct opposite of orange—or its complementary color on the color wheel—is blue. Navy paint colors like Downpour Blue 2063-20, Evening Dove 2128-30, and Mysterious AF-565, pair beautifully with pastel and pale orange paint colors. On this door, Flint AF-560, a dramatic slate gray, adds rich contrast.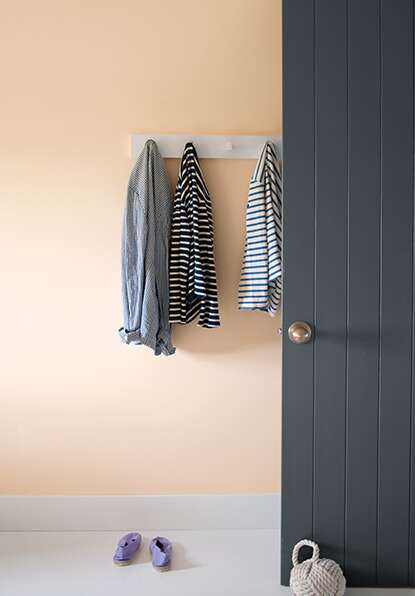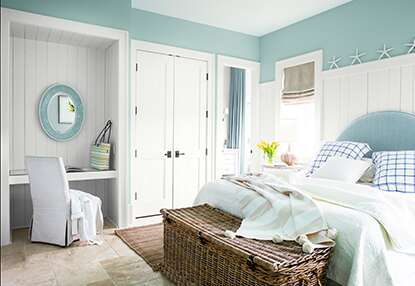 Pale and Pastel Blue Paint Colors
Light blue paint colors evoke a calming, rejuvenating air. Check out Yarmouth Blue HC-150, seen in this relaxing bedroom. Pair soft blues with whites and neutrals to create a refreshing coastal bedroom. And use bold pops of color for a focal point and a touch of energy.
Pale, gray-blue paint colors hold appeal as a slightly more subtle choice for homeowners looking for light blue colors. We love Ocean Air 2123-50, Mt. Rainier Gray 2129-60, and Tranquility AF-490.
"LAYERS OF PALE PAINT COLORS GIVES A FRESH FEELING TO ANY ROOM."
Pale and Pastel Green Paint Colors
A peaceful monochromatic pale green color scheme breathes a pastoral feeling into any space. This home office nook combines Fernwood Green 2145-40 and Urban Nature AF-440. A painted wood desk in Twilight Zone 2127-10 balances the lighter wall colors with a rich black color that grounds the space.
Ready to add the outdoors-in energy of pale green paint colors to your home? Our color experts recommend these verdant color combinations:
Guilford Green HC-116 paired with Smokestack Gray 2131-40

Grasshopper AF-415 paired with Jojoba AF-460

Tea Light 471 paired with Grége Avenue 991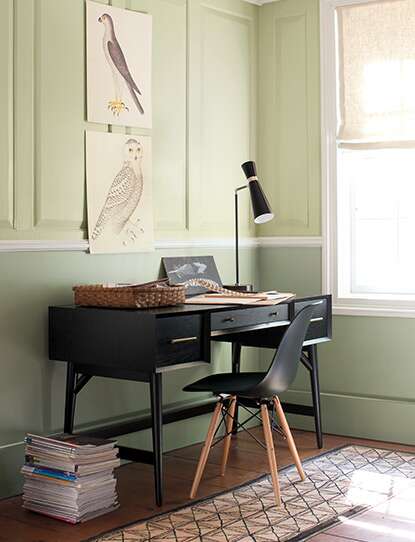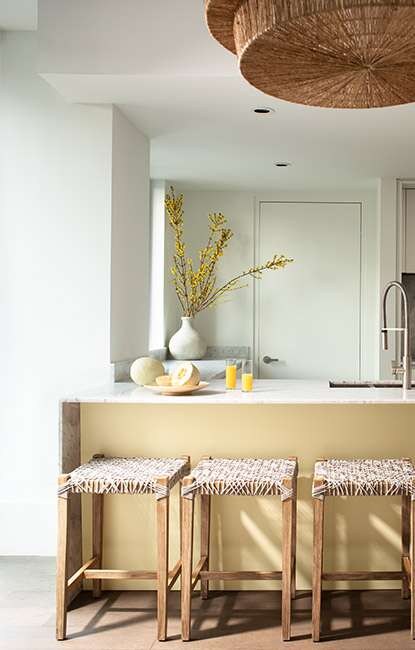 Pale and Pastel Yellow Paint Colors
Weaving pale yellow hues into a kitchen is always a sunny-side-up idea.
Here, a kitchen island that doubles as a seating counter in Golden Straw 2152-50 is warm and welcoming against classic White Heron OC-57. Raw wood and rustic accessories are standouts in the otherwise sleek, contemporary design.
Looking for exuberant pale yellow paint colors? Our color experts recommend Hawthorne Yellow HC-4, Lemonade 2024-60 and Milkyway OC-110, all of which deliver uplifting, energizing vibes in any room.
Pale and Pastel Pink Paint Colors
A feel-good hue, pale pink colors are inspiring and versatile.
Opt for a fresh, new approach to neutral with pink. Here, pale pink Dusty Trail 1157 takes its rightful role as an elevated living room color choice.
Added bonus: Pale and pastel pink paint colors are notoriously flattering, so consider them a go-to paint color for the bedroom or bathroom. Glow-worthy pale pink hues include Frosted Petal 2089-70, Dream Whip 2174-60 and Head Over Heels AF-250. Love pink? Check out more pink paint colors for your home.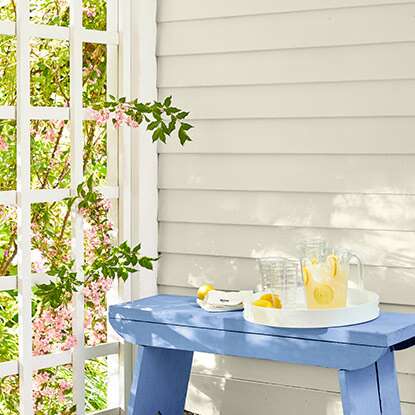 Pale & Pastels: Go Alfresco!
White and off-white paint colors are classic choices for home exteriors.
Adding a burst of color against neutral exterior siding with pale and pastel accents is a fun way to energize any exterior. This blue bench painted in Summer Blue 2067-50 adds a chirpy twist against classic Seashell OC-120 siding. Consider a lovely array of wood stain colors like Kennebunkport Green HC-123, Hamilton Blue HC-191 and Silver Mist 1619.
Ready to upgrade an old, but beloved piece of furniture? We've got you covered with our how-to guide to painting and staining outdoor wood furniture.
Try On Your Pale and Pastel Paint Colors First!
Be sure to buy a paint color sample either from your local Benjamin Moore retailer or from our online store. Choose from large peel-and-stick color swatches, brush-on paint color samples, 4 x 8 color swatches, and more.
Choose the best paint color sample for your distinct needs. Observe your selected paint colors in both artificial and natural light, as well as during the day and night. Sampling paint colors builds color confidence in your ultimate color purchase, and is critical to a happy outcome!