Equal parts stylish and sensible, gray is a design favorite. From online inspiration to in-store advice, count on us to find the best gray paint colors for your bespoke project.
From crisp light gray paint to the drama of deep charcoal, gray delivers a range of smart design options. Gray is also a classic paint color–and a perennially popular color choice for interior walls and home exteriors alike.
Warm + Cool + Most Popular Paint Colors
Here are some of our most popular shades of gray paint colors.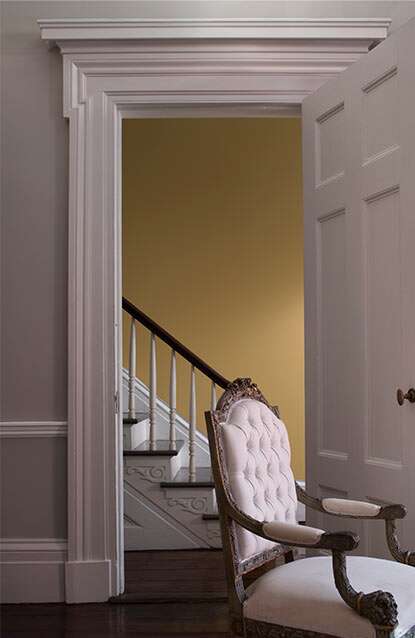 "GRAY PROVIDES BALANCE TO ANY ROOM."
How to Find the Perfect Gray Paint
What is the "perfect gray?"—It's a question we get regularly.
Given the wide range of undertones in gray paint colors, choosing a gray can be daunting. Cement Gray 2112-60, Gray Owl OC-52 and Coventry Gray HC-169 are three of our favorite recommendations.
Livable in most lighting conditions, these colors work in any room, including living rooms and bedrooms, where gray is one of the most popular paint color choices.
Gray Colors. Gray Luxury.
There is an undeniable sophistication to gray. Paired with almost any color, from scarlet to amethyst to sapphire, gray paint colors provide balance. Consider a combination of light and deep grays for a slick design element that doesn't overwhelm the room.
Gray wall paint in higher sheen levels like semi-gloss or high gloss evokes a more luxurious vibe. Consider a high gloss silvery-gray paired with rich fabrics like velvet or silk. In addition to adding a design edge, glossy gray paint is durable and easy to clean.
If you love the look of a sleek modern farmhouse, gray paint colors are always a go-to for this popular style.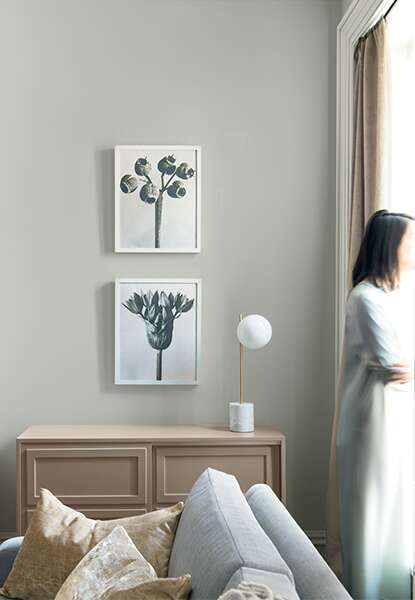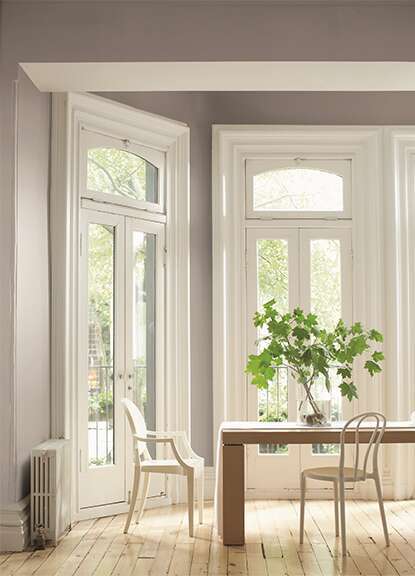 The Art of Dining, the Warmth of Gray
The just-right paint color can elevate your dining room, adding drama and elegance to a space that's used everyday.
Consider a timeless color combination of gray and white paint in your dining space. Here, Silver Fox 2108-50, paired with Chantilly Lace OC-65 trim, is inviting, yet stylish. Versatile, Silver Fox 2108-50 provides a neutral backdrop throughout the day, appearing warm or cool depending on the lighting. Other gray paint colors we love in the dining room include Wish AF-60, Annapolis Gray HC-176, and Gray 2121-10.
Easily interchangeable elements like chairs or side tables allow the room to grow and evolve along with you. Here, a simple wooden table and touch of greenery bring the outside in, creating a fresh space to enjoy a meal.
Gray is also a sleek choice for hallways and open-space areas, acting as a neutral portal to other color rooms.
What is an Undertone?
Paint colors are often created by using two or more colors. If there is a higher percentage of one color over the other, that creates an undertone.
Tackle undertones by…
Stacking gray color chips on top of one another to see brightness levels and undertones.

Bringing color chips home and layering them on your home furnishings.

Buy a color sample and testing on walls in different lighting conditions.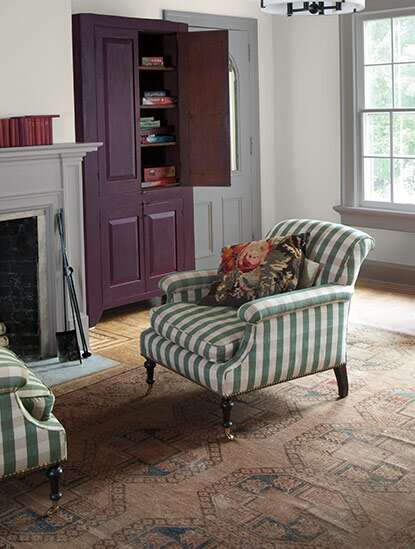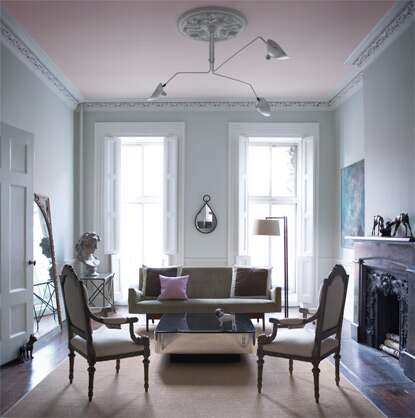 Choosing Between Warm and Cool Grays
To narrow the wide spectrum of gray, consider warm and cool grays. Warm grays, or brown-gray—commonly known as "greige"—are enveloping and welcoming, while cooler grays like green-gray and blue-gray, are elegant and modern.
A room with northern light tends to reveal more of a paint colors' blue and green undertones, so many homeowners opt for a warmer gray in those spaces.
Southern facing light is typically more flattering, opening the door for a wider range of grays in your space.
Exteriors Go Gray
Gray is a popular choice for any type of home exterior, providing a transformative effect on your façade. Gray seamlessly complements most classic roof colors, as well as brick and stone. Consider gray paint on doors, trim or shutters if you are not ready to go entirely gray.
Whatever gray paint color you choose for your home's exterior, Aura® Exterior paint provides outstanding durability against even the harshest weather conditions–and comes with a lifetime-limited warranty.