For our midcentury modern color palette, we love ochres, browns, soft whites, warm neutrals—and a signature spike of red. Explore the quintessential hues of this streamlined, sophisticated style.
A state of mind as much as a design style, the Mediterranean ethos is effortless, elegant and easy-going. Rustic and traditional materials, a heightened sense of craft, and neutral colors spiked with cool blues are all popular design elements found in the Mediterranean-influenced home.
There are 21 countries along the Mediterranean—including Spain, Malta, Morocco, Turkey, Greece, France, and Italy to name a few—so inspiration abounds.
.
The Benjamin Moore Midcentury Modern Color Palette
Combine organic, warm colors and sleek, industrial white and blue-gray hues with pops of red to capture the spirit of Mediterraneanmodern style.






Notes from the Region: Benjamin Moore, Malta
To kick off our research on Mediterranean color and style, we turned to one of our retailers in the area for first-hand insights.
"Color influences vary depending on which part of the Mediterranean you are in," says Yani Ellul, Business Development Manager in Malta's Grech & Ellul, a Benjamin Moore retailer. He offers these examples:
Malta, Israel, Lebanon: Natural stone (limestone) colors are prominent. They weather to different shades of honey beiges and soft yellows.
Sicily, the Balkan coast, Morocco: These areas combine deep Mediterranean blues intermixed with lighter blues. White and sandy beiges are also popular.
Cinque Terre, Liguria: Pastel shades of pink-, yellow- and pale turquoise-painted houses stand out against rocky coastlines.
Midcentury Modern Style Showcase
Set against Benjamin Moore paint colors, we celebrate the iconic nature of midcentury modern seating, from the butterfly chair to the Aalto stool.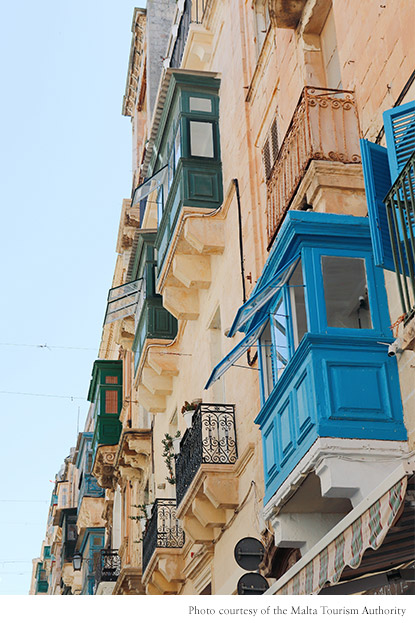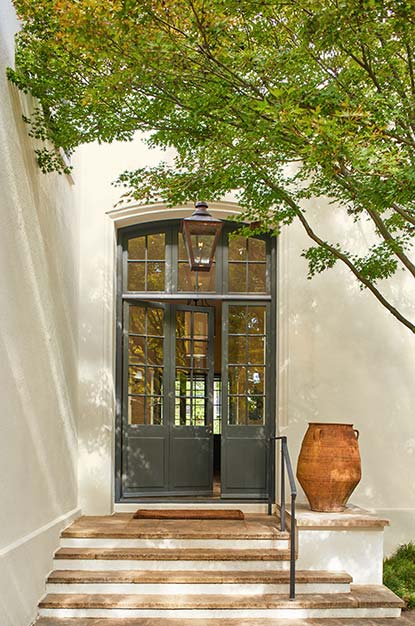 Welcome Guests with a Touch of Tuscany
Maximize a Mediterranean-inspired façade and freshen up your exterior. Warm hues, terracotta urns, and lush greenery set the tone.
Whites and neutrals play perfectly for a stucco refresh. Look for soft, golden undertones like White Chocolate OC-127, shown here, as well as Niveous OC-36 and Sandy Brown 1046, both from our Mediterranean color palette.
Spice up your front door with bold, yet earthy hues. Here, Mohegan Sage 2138-30, in a smooth satin finish, also from the Mediterranean palette, offers depth and warmth. Other front door deep hues homeowners love include Lush AF-475, Moroccan Red 1309, and Mayan Gold 175.
Mediterranean Style: A Snapshot
Regardless of a space's size or stature, with the right colors, it's easy to create a touch of Mediterranean mystique.
Here, Rockport Gray HC-105, from our Historical Color Collection, creates a monochromatic color statement on the walls and arched ceiling. Enveloping and warm, the look transforms a simple act of washing hands into a magical, cove-like visit to another time and place. An organic basin sink, gilded accents, and touches of greenery contribute to the quintessential Mediterranean tableau.
Warm neutrals and grays make natural complements to the sunbaked patina of Mediterranean style. Consider Silver Fox 2108-50, Wish AF-680, and Edgecomb Gray HC-173 to create a similarly dramatic and earthy monochromatic look in your small space.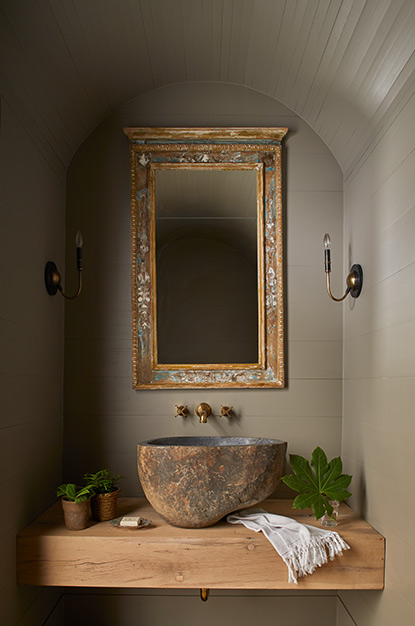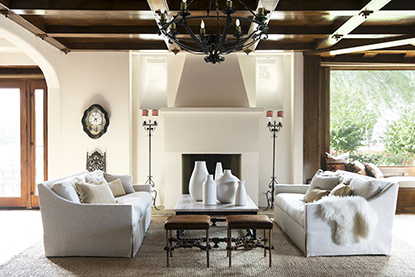 The Broad Reach of Mediterranean Style
From California's mission-style homes to the adobes of the American southwest, Mediterranean style—like the sea itself—is influential and vast.
In this open plan space, a heavy wood ceiling and sharper lines reflect a sleeker side of the Mediterranean living room, while still offering warmth and comfort. White always works its wonders in Mediterranean design, as seen here with creamy Evening White OC-81 on walls.
The bounty of the outdoors is always a key style force for the Mediterranean look. Here, large picture windows, all-natural woven textiles, and a white sheepskin blanket play to an organic, outside-in look.
Singing the Praises of Mediterranean Blues
From cobalt to turquoise, blue paint colors are indispensable for a classic Mediterranean look.
Beneath raw wood ceilings, the striking teal blue of Soft Spruce 671 makes a major color statement in this bedroom. Bold and sleek, this chic, eye-opening color balances the room's old-world charm with its muslin drapes, vintage dresser, and antique mirror. The perfect blend of easygoing and elegant, the Mediterranean bedroom beckons with both romance and relaxation.
Other rich blues we love include Seaport Blue 2060-30, Brilliant Blue 2065-30—from our Mediterranean color palette— and Southern Belle 819. Use them to bring the alluring azure of Mediterranean waters into your home.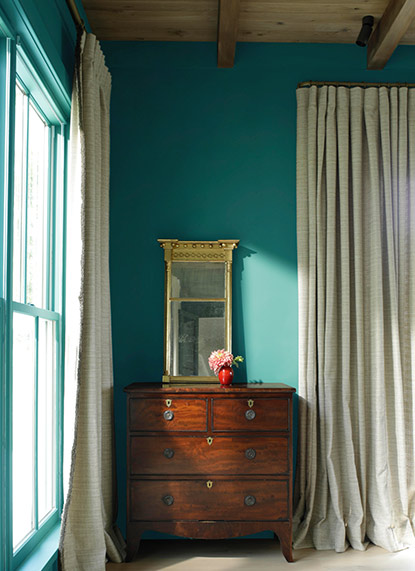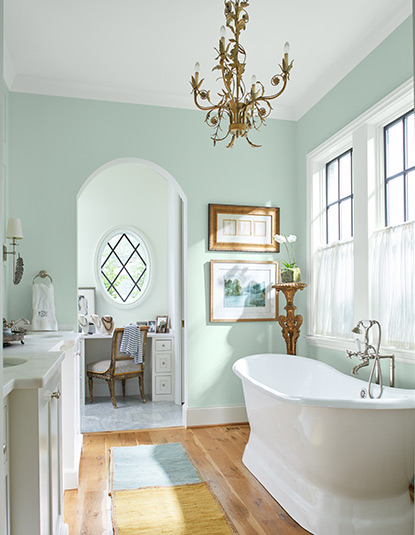 Exterior Paint Colors? Think Mediterranean White.
Dining outdoors is practically mandatory in the Mediterranean region.
Tie design elements from inside your home to your back porch for a seamless look. You can't go wrong with stone details, ornate metalwork, and colorful tiles to create a charming, resort-like vibe.
White and blue, a classic Mediterranean color combination, brings seaside freshness to any style home. Even brick siding evokes a casual, airy look when painted in White Heron OC-57 and paired with Blue Danube 2062-30 doors. Consider a leafy, vine-woven pergola to top off the look.