Incredibly versatile and surprisingly complex, neutral paint colors are a homeowner favorite.
Relaxing and soothing, neutral colors—including white and gray—exude calm. Turn to our online inspiration or in-store advice as you consider the vast array of neutrals. And don't forget to paint samples on your wall before buying: Seeing color on the wall, no matter how subtle your choice, is the only way to ensure it's perfect for your space.
Warm + Cool + Most Popular Paint Colors

Muslin
OC-12

Cedar Key
OC-16

Wind's Breath
OC-24

Classic Gray
OC-23

Pale Oak
OC-20

Balboa Mist
OC-27

Shaker Beige
HC-45

Manchester Tan
HC-81

Grant Beige
HC-83

Barren Plain
2111-60

Collingwood
OC-28

Moonshine
2140-60

Lenox Tan
HC-44

Bleeker Beige
HC-80

Pashmina
AF-100

Silver Fox
2108-50

Rockport Gray
HC-105

Storm
AF-700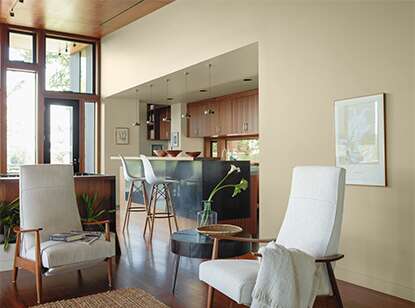 Focus on Lighting and Neutral Colors
Lighting always plays a critical role in color perception, and neutrals are particularly sensitive. To select the best neutral paint color for your home, test each hue in different lighting conditions.
Here, the near wall in Revere Pewter HC-172 is a classic 'greige' that can appear as beige, gray or off-white based on changing light at different times of the day.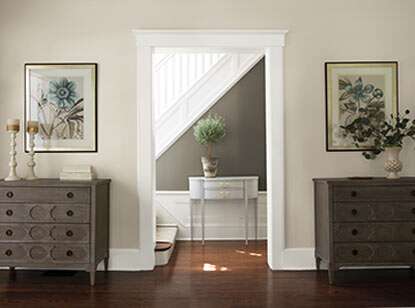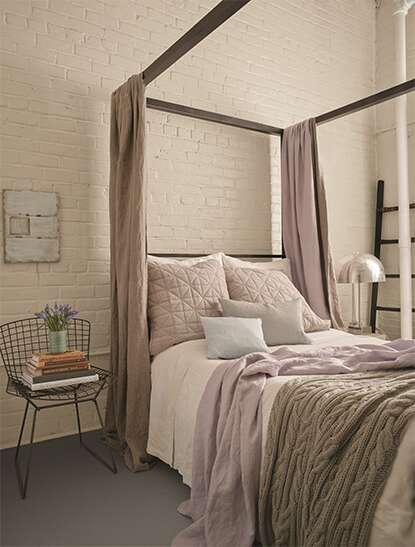 The Best Neutral Paint Colors: Bedroom
Many homeowners want to know what hues are the most flattering in the bedroom to set a relaxing mood and create a "neutral territory" for those who share this intimate space. "Everyone looks and feels different based on the colors they're surrounded by," says Hannah Yeo, Color & Design expert, "Look for a color that flatters your personality."
Want a shade as stylish as your wardrobe? Neutral colors in a bedroom can help you assess your clothing more easily. Favorites include luxurious Wish AF-680 and Pashmina AF-100, as well as Clay Beige OC-11, shown here.
The Best Neutral Paint Colors: Living Room
When realtors stage a home, they commonly choose neutral paint colors because of their adaptability, inviting nature, and overall balance. If you frequently swap out accent pieces or have bright, colorful furniture, like the coffee table here in Marlboro Blue HC-153, neutral paint colors are a great option.
We love the barely-there hues of Ashen Tan 996, pictured, and silvery Halo OC-46. Want to go deeper? Earthy Saddle Soap 2110-30 offers color saturation while remaining a sturdy, goes-with-anything neutral.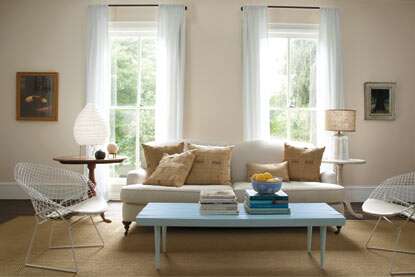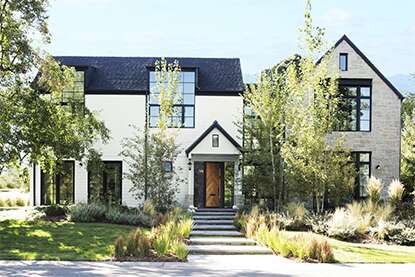 A Warm Welcome
A neutral color palette for your home's exterior offers a beautiful backdrop for flora and fauna, from evergreens to cacti. Here, Baby's Breath OC-62 beckons a soft welcome. Other beigey neutrals that provide timeless curb appeal include Bleeker Beige HC-80 and Smokey Taupe 983.
Add some spark to neutral exteriors with a deep accent color, as seen here with rich Baby Seal Black 2119-30 on trim. Be sure to take color inspiration from stone, slate, wood and other materials from your home's façade as well.