Whether you are looking for a cheerful cherry blossom or an eye-catching fuchsia, pink is a flattering paint color that works wonders in any space. Let's find the perfect pink paint color for you!
Most Popular Pink Paint Colors
Here are a few of our homeowner favorite pink paint colors, including First Light 2102-70, a former Benjamin Moore Color of the Year.
.












Pink Living Rooms
Pink walls in living rooms are both comforting and sophisticated, ideal for a space where you love spending time. Here, an accent wall in First Light 2102-70 provides a burst of blush besides walls and ceiling in White Heron OC-57. Explore the expertly curated color palette themed around First Light 2102-70 for more pairing-with-pink color inspiration!
Light pinks like Opal OC-73, Head Over Heels AF-250, and Tissue Pink 1163 are also favorites for living rooms. Looking for something bolder? Try Royal Flush 2076-20, a vibrant fuchsia, paired with a warm neutral, like Sonnet AF-55.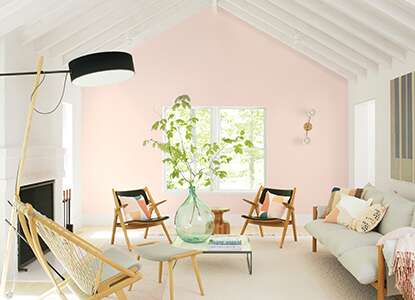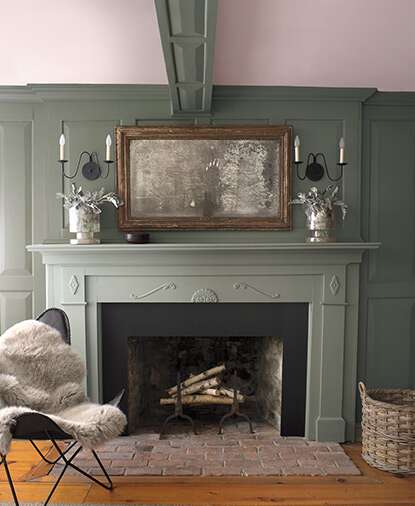 Pink Complementary Colors
'Complementary' colors is the term for hues that sit opposite of each other on the color wheel—learn more in our color wheel video.
When thinking of pink complementary colors, look to the many shades of the green color family. Pair a blush pink with a grounded green for beautiful balance: This seating area features a stately fireplace and walls painted in Desert Twilight 2137-40 and Sea Haze 2137-50 while the ceiling adds whimsy in Touch of Pink 2008-70. Soft pink paint colors offer a refreshing alternative to white ceilings, adding a design edge to the often overlooked "fifth wall."
Foggy Morning 2106-70 is another favorite neutral pink; we love pairing it with Tarrytown Green HC-134 or Garden Oasis 699 for stylish contrast.
"SURPRISINGLY VERSATILE, PINK HAS MORE RANGE THAN YOU MAY THINK."
Think Pink Paint for Your Morning Routine
Ready for the day? Wake up feeling refreshed with pink bedroom walls in Proposal AF-260, Mellow Pink 2094-70, or Odessa Pink HC-59. Pink is a favorite homeowner choice for both bedrooms and bathrooms, a flattering color that adds a soothing glow to any space.
This Fruit Shake 2088-60–painted bathroom offers a refreshing, yet sophisticated sanctuary. A happy hue sets the scene to invigorate in the morning, and wind down at night. Looking for an idea for wainscoting? Try using the same color as the upper wall but in a different sheen. Surround yourself with this mood-boosting pink while highlighting the architectural details in the space.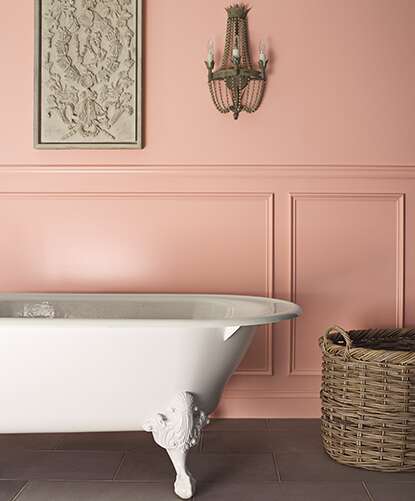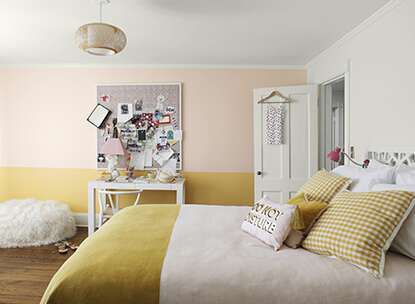 Pink-Painted Kids' Rooms
Looking for the perfect color for your kids' room? Pink bridges the gap between fun and function, breathing playfulness into the space where your child studies, sleeps and daydreams. Use a more neutral hue, like Bashful 1171, so you can accent with bold colors on furnishings and throw pillows, and change them out as your children grow.
In this teen's bedroom, an accent wall featuring the peach-toned Soft White 2170-70 and Hawthorne Yellow HC-4 offers graphic interest next to classic white walls in Simply White OC-117, a former Benjamin Moore Color of the Year.
Vibrant Pink
Pink offers a surprising range that livens up any space. Bring some drama with deep magentas and bold fuchsias, or brighten up a small space with an invigorating playful pink.
Add a touch of glamour to your bedroom by using more vibrant pinks as an accent or feature color. This ceiling painted in Twilight Magenta 2074-30 draws the eye up against walls in Paper Mache AF-25, providing a pop of color in this crisp room.
Looking for an eye-catching pink paint color? We suggest Crushed Berries 2076-30 and Cranberry Cocktail 2083-20.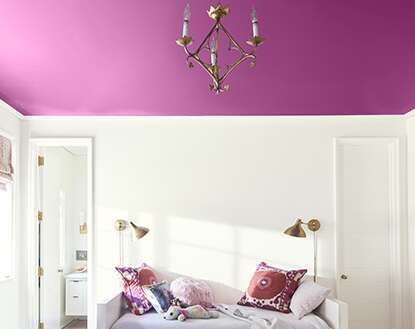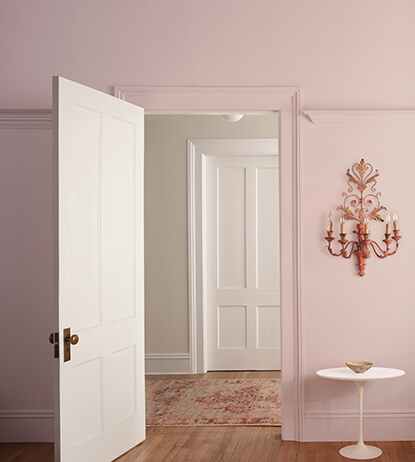 Pink & Neutral Paint Colors
An inviting palette of pinks and neutrals transform common rooms into soft spaces to relax. Pink works well with cool grays and warm taupes, ideal for enhancing your neutral bedroom and living room designs.
Strike the perfect balance by using neutrals in transitional spaces like hallways and entryways that lead you to rooms in fresh pinks. Here, a hallway painted in Baby Fawn OC-15 opens to a room in Pleasant Pink 2094-60, allowing colors to transition smoothly from room to room.
Consider these winning pink and neutral pairings for your home:
Rose Silk 2104-60 paired with Kendall Charcoal HC-166
Queen Anne Pink HC-60 paired with Manchester Tan HC-81
Damask Rose 2082-50 paired with Horizon OC-53
White Trim & Ceiling Colors for Pink Walls
Now that you've found your perfect pink wall color, complete the look with a classic white-painted trim and ceiling. White Opulence OC-69 and Atrium White OC-145 are two of our favorites, since they have a soft hint of blush to them.
Looking for a crisp, clean white paint color? Chantilly Lace OC-65 is considered one of our brightest white paint colors and a go-to for trim and ceiling. To keep it simple, use the same white paint color on the trim and ceiling, but change up the sheen for a slight contrast.
Here, the subtle pink of White Opulence OC-69 provides a soft and inviting color for any room, paired beautifully with walls in Pristine OC-75. Bold pink bedding and a patterned chair complete the look. Explore more relaxing bedroom colors.