Tackle your design project with confidence thanks to these essential pointers to finding the perfect paint colors.
Color really does make the room. The perfect shade and finish can enlarge a small space, bring in more light, or deliver that kick of energy you need with your morning coffee. But finding the right one? Now that's another story.
Color Wheel Insights
Take a look at the color wheel colors in totality: Warm reds, yellows, and oranges on one side; cool lavenders, blues and greens on the other. Creating a palette within the same half of the wheel tends to be more harmonious. Pairing two colors opposite one another adds a dash of invigorating tension. Which do you prefer?
Key color wheel terms:
A monochromatic color scheme uses tints and shades of the same color.

An analogous color scheme uses adjacent colors on the color wheel.

Complementary color schemes (as in "opposites attract") include two colors that are opposite to each other on the color wheel.
Take a brief tour of the color wheel here!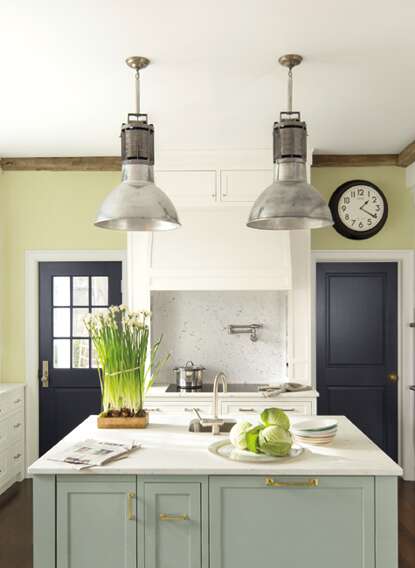 Selecting the Perfect Room Color
These three categories are a great starting point to help identify your personal color preferences:
Pales: Ballet pink, dusty lavender, washed out blue—light, airy combinations that lift you up

Neutrals: Slate, clay, sand, ochre—natural combinations that keep you grounded

Deeps: Violet, onyx, sapphire, ruby—confident colors that create instant character
Learn about the emotional impact of these color categories in The Psychology of Color.
Accent on Trim
Painting trim in glossy white is a classic choice, but why not go beyond white or cream? Choosing a trim color—think Black Satin 2131-10—against a neutral wall is a striking way to showcase a room's unique architecture.
Consider an Ombre color scheme: Paint walls with different shades of one color, keeping the darker hue closer to the bottom for a beautiful effect. Here, we use Green Grove 2138-20 on the base molding, Briarwood HC-175 on the lower wall and Bleeker Beige HC-80 on the upper wall.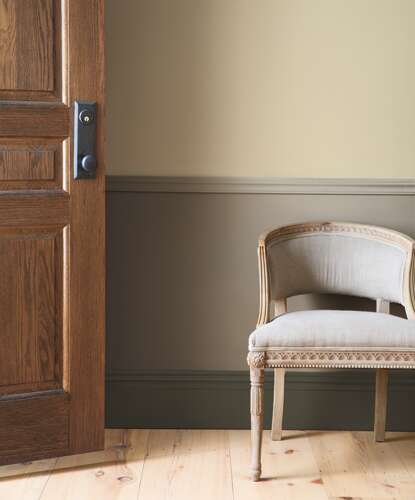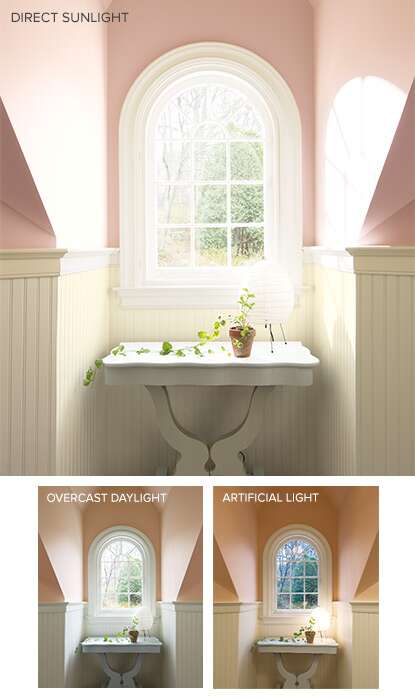 "TIME OF DAY MATTERS WHEN IT COMES TO ASSESSING COLOR."
The Theater of Light
Light in a room changes many times throughout the day.
From the natural light of early dawn to the artificial light of nightfall, the relationship between light and your chosen paint color is a crucial consideration. As seen here:
Top: Direct midday sun will brighten up any hue

Lower Left: That same hue is flattered by softer, indirect illumination.

Lower Right: Artificial light adds a warm glow to wall color.
Explore all the ways Benjamin Moore helps you sample color at home.
Test. Observe. Repeat.
Experimenting and observation is key when it comes to selecting paint colors for home interiors.
To make sure you choose a color with confidence, buy color samples at your local Benjamin Moore retailer. At home, paint a board–foam core will do nicely–and move it around to different parts of the room. Monitor how the paint color changes at different times of the day so there are no surprises.
Buy a Benjamin Moore paint sample to experience paint color in real-time, from morning to night.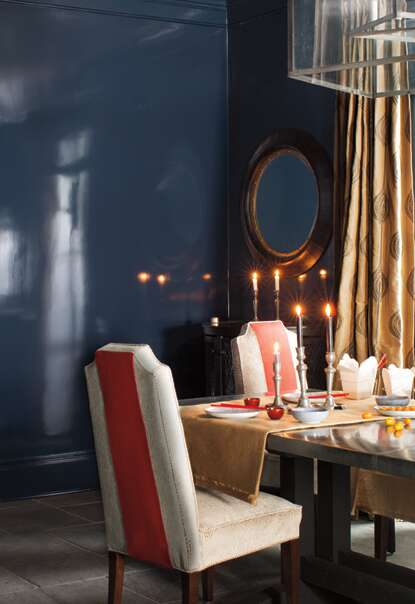 A Look at Paint Finishes
Selecting the right type of paint finish can enhance paint color. Top design tips for sheen selection include:
Higher gloss adds dimension and levity to any room.

Shiny finishes look best on smooth, clean surfaces (spackled, sanded, etc.).

Matte or flat paints are most forgiving of imperfections.

Eggshell is the perfect middle ground between a matte look and higher gloss durability, making it a go-to, all-purpose finish for high-traffic areas.
Visit a local Benjamin Moore retailer to pick-up a paint sheen chart you can take home.
Sheen 101
Sheen puts the finishing statement on your color of choice:
Flat–low sheen, very forgiving

Matte/Eggshell–Durable, flexible for most parts of the home

Semi-Gloss–Luminous finish that highlights architectural details
For more tips and insights, check out our step-by-step guide on how to select the right sheen.
Get insights on how sheen impacts paint color.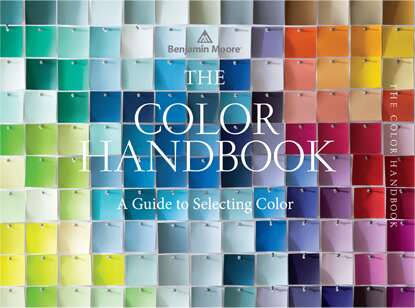 The Color Handbook: A Guide to Selecting Paint Color
Visit one of the 7,500 locally owned and operated Benjamin Moore stores, and pick up your own copy of The Color Handbook: A Guide to Selecting Paint Color for more inspiration.
Get more step-by-step guidance on selecting color on our How To section.